Free vending machines – pay only for drinks/snacks.  Click below to get a quote.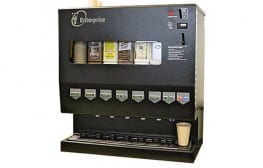 The Enterprise II & III offer excellent value for money in loose ingredient dispensing machines. Its compact size and superb styling is ideal for those customers who wish to use china cups or mugs, but recognize the cost savings and convenience that only a vending solution can bring.
Features
Choice of up to 4 main and 2 secondary ingredients with added optional benefit of 2 syrup based cold drinks

Incredibly user-friendly push button drinks selection system

Electronically controlled internal sugar dispenser available for either pre-packed bottles or refillable jar

Ingredient volumes individually adjustable for each selection
Find out more about our hassle free vending service
Contact us today: 0800 587 4516.
Only takes a few seconds!