Free vending machines – pay only for drinks/snacks.  Click below to get a quote.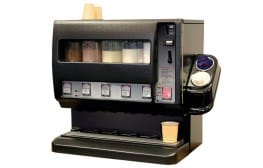 The Olympian III offers excellent value for money and requires the absolute minimum of cleaning. Its compact style and superb good looks are ideal for those customers who wish to use china cups or mugs but do not want the daily cleaning requirements associated with fully automatic dispense equipment.
Features
Choice of 3 main and 2 secondary loose ingredients

Programmable free on-demand hot water or one-touch automatic cup fill

Can be specified to handle either pre-packed bottles or refillable ingredient jars

Ingredient volumes are individually adjustable for each selection

Extremely compact for table top use
Find out more about our hassle free vending service
Contact us today: 0800 587 4516.
Only takes a few seconds!