Free vending machines – pay only for drinks/snacks.  Click below to get a quote.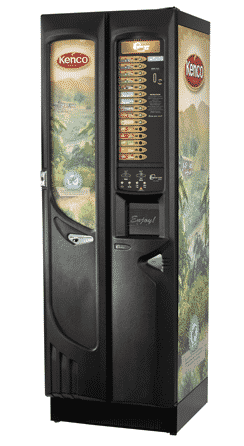 Presenting the ultimate in convenient and cost effective vending, the all-new Refresh 1400 is designed to satisfy today's demanding user with a delicious array of hot & cold beverages. Despite its unrivalled capacity, this superbly engineered machine occupies just 0.4 square metres of floor space.
Features
Market leading choice of up to 15 primary drink selections (10 In-Cup based drinks, 4 syrup based drinks and a further drinking water selection)

Electronically controlled, self opening and closing cup station door ensures both security and safety whilst a drink is being prepared

Optional syrup based cold drink system together with high capacity cooler or cooler/carbonator combination to satisfy high throughput requirements

Cold Drinks can be served in different cup sizes and styles – ideal for larger portions and/or enhanced presentation

High capacity 7.5 litre sugar container fitted as standard
Find out more about our hassle free vending service
Contact us today: 0800 587 4516.
Only takes a few seconds!