Free vending machines – pay only for drinks/snacks.  Click below to get a quote.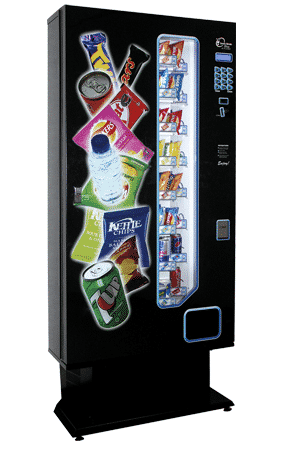 At 12″ deep, this compact snack machine is the ideal solution for locations where space is at a premium
Within its compact dimensions, 16 different product selections may be dispensed from the standard machine.  The modular design means different shelf configurations can be specified allowing every machine to be individually tailored.  Ambient, refrigerated and even battery powered versions are available.
Energy efficient ice white LED lighting is fitted as standard.  A range of payment options are available, including the opportunity to 'slave' the SnackBreak Slim to a DarenthMJS host machine.  Unique graphics and colours can also be supplied to meet your specific requirements.
Features
Super-slim compact design

16 product selections

Ice white LED lighting

Easy-fill inner door mechanism

Ambient / refrigeration options
Options
Wide range of shelf options (no additional cost)

Battery powered (ambient with no internal lighting)

Vendsafe product drop detection system

Radar based movement sensing lighting control
Find out more about our hassle free vending service
Contact us today: 0800 587 4516.
Only takes a few seconds!