Free vending machines – pay only for drinks/snacks.  Click below to get a quote.
Large Capacity | Fully Automatic | 8 Drink Selections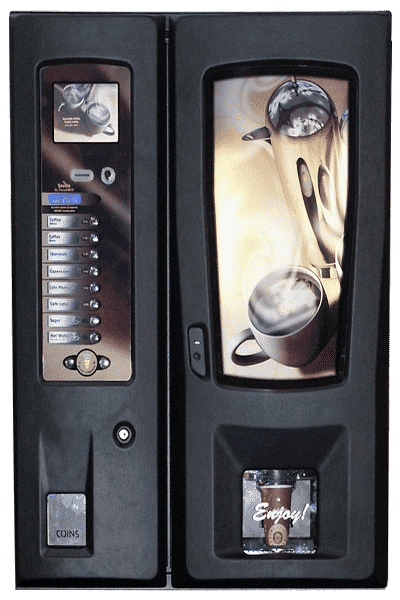 The very latest development in our extremely highly regarded, market leading, loose ingredient dispenser machine range. Now FULLY AUTOMATIC in operation, this exceptional new machine perfectly combines the cost effectiveness of a 'traditional' vending machine with the ultimate convenience and extremely low maintenance requirements of an In-Cup. The ingenious nature of the Seville machine utilises a fully automatic cup transfer mechanism which collects measured doses of each required ingredient and then delivers the cup with the completed recipe inside to the illuminated serving station, where water is finally added to complete the drink.
Features
Choice of up to 8 different drink selections

Recipes are prepared from 6 large capacity ingredient canisters

Fully automatic – dispenses the complete drink

Graphical strength adjustment features enables users to fine tune taste preferences

Internal cup management system compatible with both paper and plastic cups including larger variants

Optional chocolate sprinkle feature – the perfect finish to a delicious cappuccino
Find out more about our hassle free vending service
Contact us today: 0800 587 4516.
Only takes a few seconds!